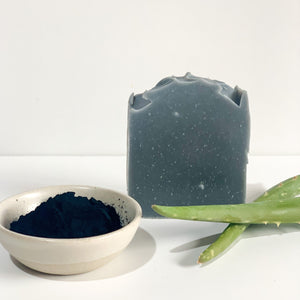 Freshly pulped, homegrown Aloe Vera infused into a shea butter, coconut oil, olive oil and avocado oil base with added activated charcoal for exfoliating. 
Lavender and Tea Tree essential oils have been infused to help cleanse the skin and have been known to help aid in acne and excess oil in the skin. 
Aloe vera has been used for centuries to aid in repairing skin, reducing acne and naturally retaining moister. 
Perfect for a facial bar! 
Ingredients: Olive oil, coconut oil, aloe vera pulp, avocado oil, shea butter, castor oil, lye, activated charcoal, lavender essential oil, tea tree essential oil 
Approx. 115g